MIAMI, Fla.--The Las Vegas Raiders (5-6) came into this game with the proverbial puncher's chance to win, and against the NFL's best offense, they lost 20-13 to the Miami Dolphins (7-3).
After the game, QB Aidan O'Connell spoke about the contest and we have it all for you.
You can watch the entire podcast above, and read the transcript below.
 Las Vegas Raiders QB Aidan O'Connell 
Q. Vic Fangio, the defensive coordinator, they did some things tonight they have not been doing, just did some new things to show wrinkles. How much did that impact the game? AIDAN O'CONNELL: Yeah, even I think our first snap they did something we hasn't seen on film yet, so it was a good job mixing it up. I think we just got to execute better, can't turn the ball over. It's really on us at the end of the day to do our job better, me in particular. Yeah, just frustrating. 
Q. No first downs in the second and third quarters. What do you think was the primary problem there between the middle of the game? AIDAN O'CONNELL: Yeah, I think we're learning how important every possession is and just how much we have to lock in on every play. Can't go backwards and try to stay ahead of the sticks. I think we really have to convert better on third down, but before that, got to do a good job at getting the third-and-short, because third down is hard to convert. Just got to do a better job staying ahead of the sticks.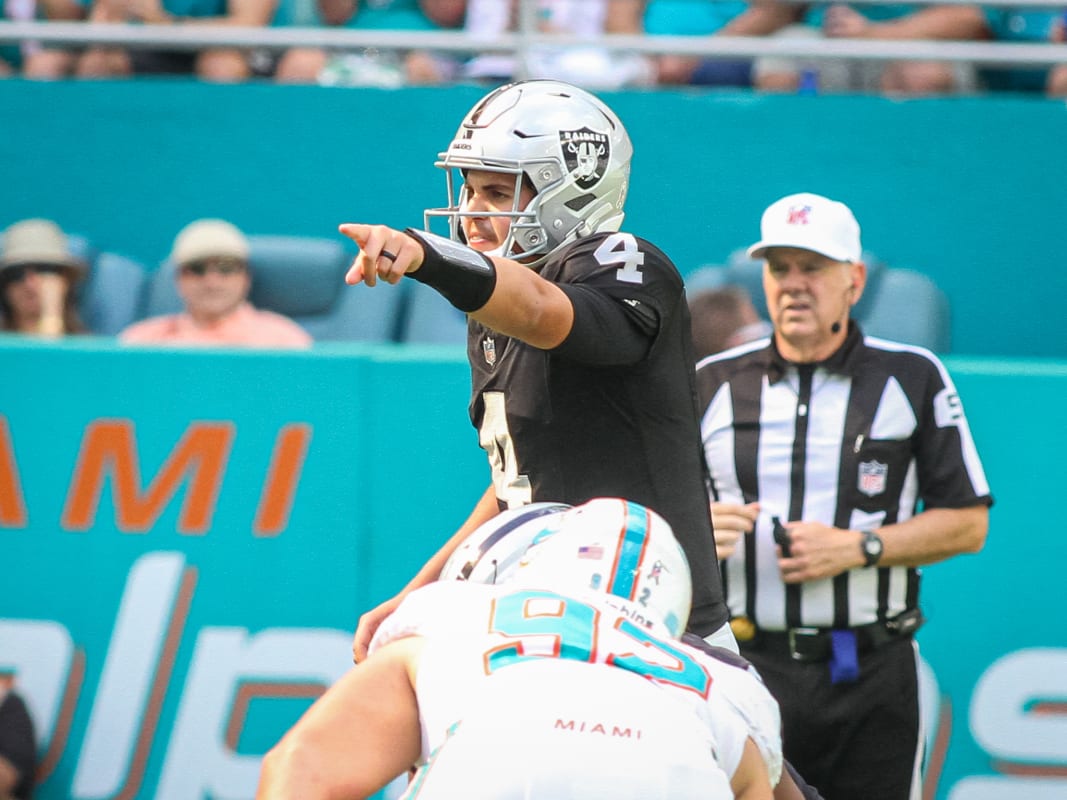 Q. Were they doing anything different in the second half? Obviously, played well in the first half, second half, a few turnovers. Were the Dolphins defense doing anything different? AIDAN O'CONNELL: Yeah, like we said, they were switching it up a little bit and giving us some different looks, but they also on a lot of stuff played their base stuff that we saw on film. In any game, you're going to get a combination of things you have seen and, for the most part, some new wrinkles. So it wasn't anything crazy, it was stuff that we've talked about before. Just got to execute better. 
Q. On the interception when you were being sacked, were you trying to throw the ball away or did you see someone you were trying to get it to? AIDAN O'CONNELL: I saw Jakobi (Meyers) and I was trying to throw it to him. It was fourth down, I was just trying to make a play. I drifted too far in the pocket there. I just got to do a better job of not getting us in that situation, and then once I'm in that situation, got to just make better decisions. 
Q. I know you're not a dual-threat guy, but do you need to maybe trust your legs at times to take off and run a little bit? Do you think that would help for not allowing teams to just tee off on you? AIDAN O'CONNELL: Yeah, I think I have to probably not be as predictable and, like you said, use my legs a little bit. I think, again, if I do my job better – we hope to just be in better situations and not be in situations where I need to do that. All around, I just have to play better, passing the ball, decision making, all that stuff. 
Q. What did you see the last interception? You thought you had him? What did you see? AIDAN O'CONNELL: It was 20-something seconds left, no timeouts. I knew at some point we were going to have to take a shot, because we needed a touchdown. I saw Tre (Tucker) had a little step and again hung it up there too much and the defender made a really good play. I think we were a little messed up in our alignment to start, I didn't communicate well enough getting into the huddle. So some better communication would have gotten to the play better and all around would have been better. We were a little messed up on the play, but trying to take a shot. I knew we had to get a chunk at some point. I hung it up there too much and he made a good play. 
Q. Would you say this is a growing pain, part of the process for you as a rookie? What is your first reaction to how tough… AIDAN O'CONNELL: Yeah, I'm learning how hard the NFL is and how hard it is to win. Just kudos to our defense, just played so well in the second half and kept us in the game. I think they scored six points in the second half. Obviously, don't think we scored, so our defense did an awesome job keeping us in the game. It's really going to come down to our offense and watching the film to just be better all around and it starts with me. 
The Silver and Black will return home next week to celebrate Thanksgiving and take on their AFC West Rival, the Kansas City Chiefs, on Sunday, November 26, at 4:25 p.m. EST/1:25 p.m. PST.
Please tell us your thoughts when you like our Facebook Page WHEN YOU CLICK RIGHT HERE.