After the NFLPA released "report cards" on every team in the league Wednesday, current and former Ravens players took to social media to discuss one of the team's categories that received an abysmal grade: strength coaches.
Baltimore ranked 32nd in the NFL in the strength staff category, earning an F minus on the grading test that interviewed an estimated 1,300 players. Not only did three former players weigh in to discuss their experiences, but current wide receiver Rashod Bateman retweeted a post that criticized the strength and conditioning staff.
It started with defensive tackle Carl Davis Jr., who retweeted the Ravens' grades in all eight categories. The 31-year-old, Baltimore's third-round selection in the 2015 draft, was on the team for three seasons—including the '16 season when he spent the entire year on injured reserve with an ankle injury. However, Davis Jr. mentioned other injuries he apparently suffered while with the team.
"I was def a victim of the strength coaches," he tweeted. "Two Labrums and multiple pec strains."
Former Ravens linebacker Bam Bradley retweeted Davis's tweet and wrote about his own experience with an ACL tear. Signed by Baltimore as an undrafted free agent in 2017, he tore his ACL in Week 2. Issues with his knee continued in '18, forcing him to miss the entire campaign that year. He was then released in '19.
"5 months post ACL. Unsuccessfully doing the same leg workouts as people with healthy knees never sits right with me.! Ruined me," he tweeted.
Then came former NFL wide receiver Quincy Adeboyejo, who also blamed the Baltimore staff for ruining his career. In a five-tweet thread, he summarized his two-year experience with the team where he suffered a knee injury and a quad tear that came "completely off the bone." Adeboyejo, who was signed by Baltimore as an undrafted free agent in 2017, was released by the team in '19 before briefly being on the rosters of the Jets and Patriots.
"Let's just say it's never good when the training room and strength coaches aren't on the same page. They didn't like eachother [sic] and it showed. Huge disconnect between the two which led to multiple injuries for a lot of guys," Adeboyejo wrote.
A fan quote-tweeted Adeboyejo's tweet and wrote, "Kinda like [Bateman] dude was healthy in college and comes to Baltimore and hasn't finished a season yet. Hopefully, new changes lead to new healthy success." Bateman, who suffered a Lisfranc injury in November and underwent season-ending left foot surgery, retweeted the tweet.
Since being drafted No. 27 in the 2021 draft, Bateman has played in 18 games for the Ravens, hauling in 61 catches for 800 yards over two seasons.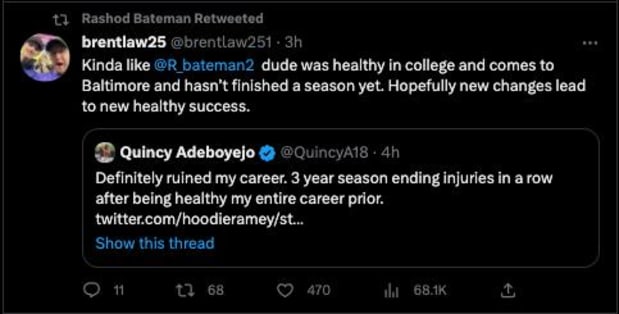 The NFLPA said the "report cards" were meant to help players "make important career decisions but also help raise standards across the league."
"30 of the 32 teams in the NFL gave their strength coaches fairly positive reviews," the Ravens' assessment said. "Baltimore was one of the two teams that fell well below the rest, and they were even significantly below the second-worst team. Players do not feel like the strength staff helps them be more successful."
With the poor grade and public condemnations, maybe Baltimore will look to make changes in that department moving forward.