This is an archived article and the information in the article may be outdated. Please look at the time stamp on the story to see when it was last updated.
How do you use FluentPet buttons?
You can spend hundreds of hours training your pets with treats, gestures, clickers or dog-training whistles. It's usually a one-way conversation, though, where the owner initiates a command and the pet executes it.
But a new system for pet training has been making waves on social media. Owners share videos of their clever dogs pushing interactive buttons to communicate through one-word audio clips. It's a great way to give your pet a voice, and FluentPet is one of the leading companies in the field.
How FluentPet works
Starting with the buttons
The core of the training and communication is the large battery-powered buttons. These are designed so a pet can easily press them to play the audio clip. There are different button sizes depending on the pet's paws.
However, before you start using your Fluentpet buttons, you must set them up. They don't come with pre-installed audio clips; you need to record your own. This is easily done by pressing the small switch on the side of each button and clearly saying one word.
This can be anything from "play" and "outside" to "food" or "bed." It really only depends on what your pet enjoys doing. Once the word is recorded, the button will play the sound through a small built-in speaker whenever it is pressed.
And don't worry about forgetting which word is recorded on which button, as all FluentPet kits include removable stickers to make identification and recognition easier.
Improving with the buttons
As your pet progresses, it's possible to incorporate more buttons for complex actions. For example, if you have "play," "outside," and "inside" buttons, you can teach your pet to press the two corresponding buttons, such as "play outside" or "play inside."
To keep the buttons firmly on the floor, you place each in a dedicated cutout on the included HexTiles. These have a soft foam top and a non-slip coating underneath. Depending on the size of the tile, there is usually space for up to six buttons. The button layout and designs make it easy to pair actions together.
Different kinds of FluentPet kits
Many owners are sure to disagree, but some pets are just smarter than others. It is impossible to know if your pet will grasp the concept of the buttons or just stare at them.
That's why FluentPet makes several kits. It's an excellent way to ease your pet into it or to expand its growing vocabulary. In addition to the "Tester" and "Get Started" kits, there are also several "Connect" kits that include a larger and louder speaker, Wi-Fi connected buttons and a mobile app.
FluentPet is great, but note that it can be an expensive gamble if your pet isn't used to technology.
Other options
FluentPet is one of the most popular choices when it comes to recordable buttons for pets to press, though several other companies make similar products. Some include pre-recorded audio clips, larger buttons or bigger speakers. But for the most part, all pet buttons work the same way, except for how the audio clips are recorded and stored.
What you need to buy for FluentPet buttons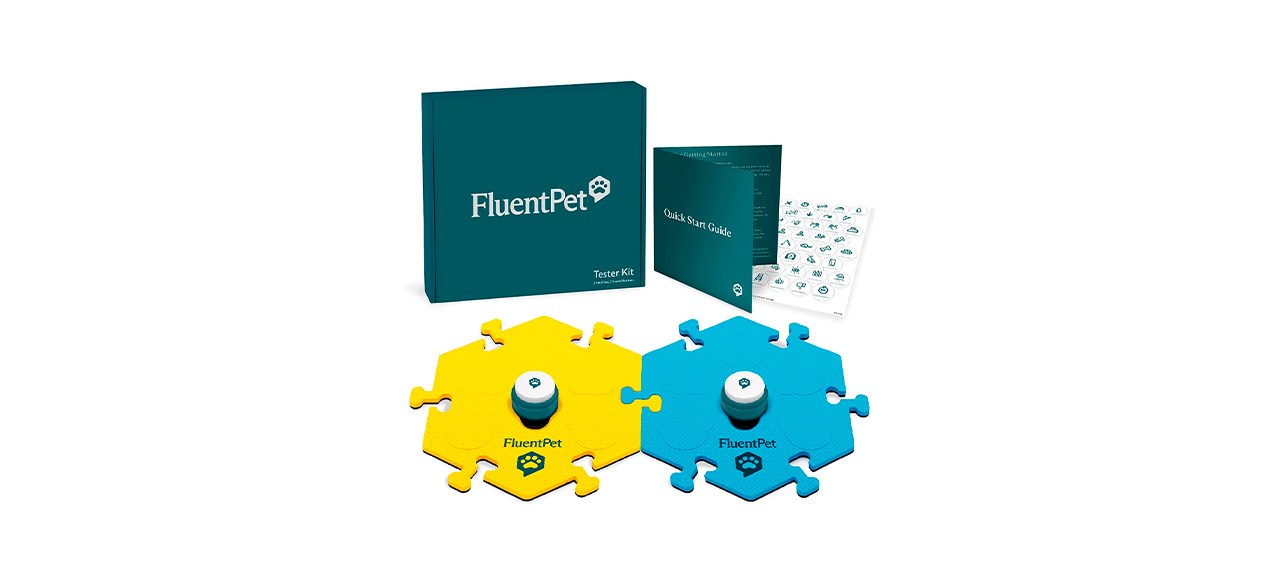 FluentPet Cat and Dog Tester Kit
If you are unsure how your pet will react to the buttons, this is a great testing kit. It comes with two compact HexTiles that have holes for six buttons, but only two FluentPet Talking buttons are included in the bundle. To help you remember which audio is recorded on each button, it comes with 67 ideogram stickers.
Where to buy: Sold by Amazon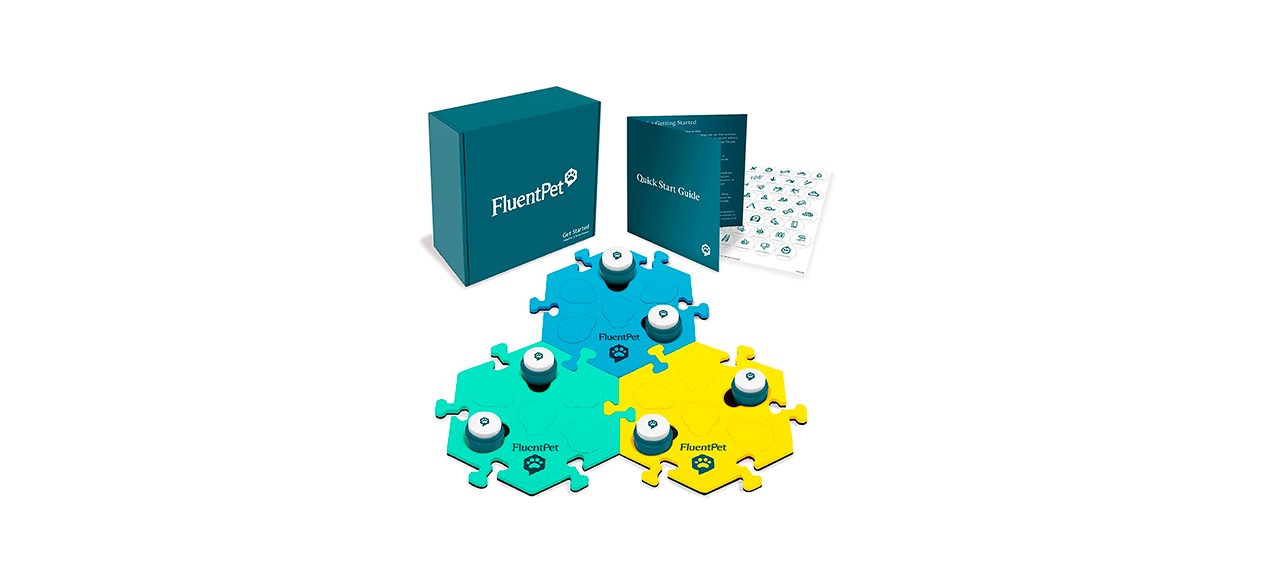 FluentPet Cat and Dog Buttons Get Started Kit
When your pet is more comfortable with the buttons and understands what they're for, consider upgrading and adding more. This is where the Get Started kit comes in, as it includes three compact HexTiles and six FluentPet Talking buttons. It's fully compatible with the Tester Kit and has 56 ideogram stickers.
Where to buy: Sold by Amazon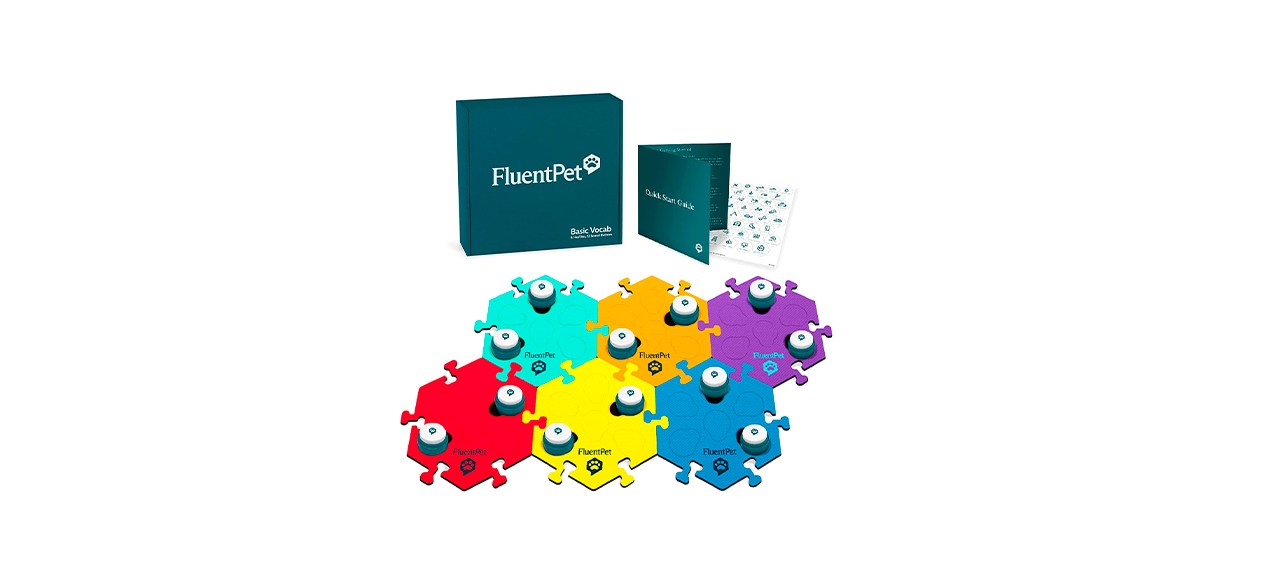 FluentPet Cat and Dog Buttons Basic Vocab Kit
This is the ultimate package if you want to give your pet the best experience and a huge selection of actions. It comes with six compact HexTiles and 12 Fluentpet talking buttons, compatible with the other kits. Everything is neatly packaged. It comes with 56 ideogram stickers and a link to a downloadable starter guide PDF file.
Where to buy: Sold by Amazon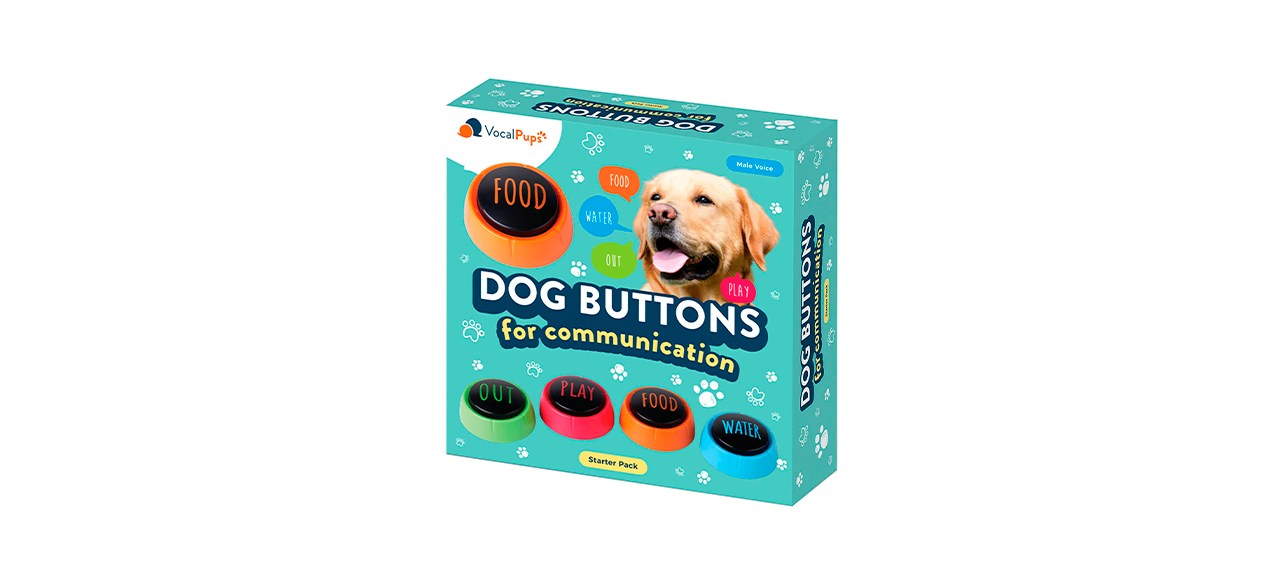 VocalPups Dog Buttons for Communication
This Starter Pack from VocalPups is a bit more affordable while functioning similarly to FluentPet's offering. The kit includes four large buttons with pre-recorded audio clips for "play," "out," "food" and "water" in a male voice. The robust buttons have large speakers, making the sounds clearer and easier to hear.
Where to buy: Sold by Amazon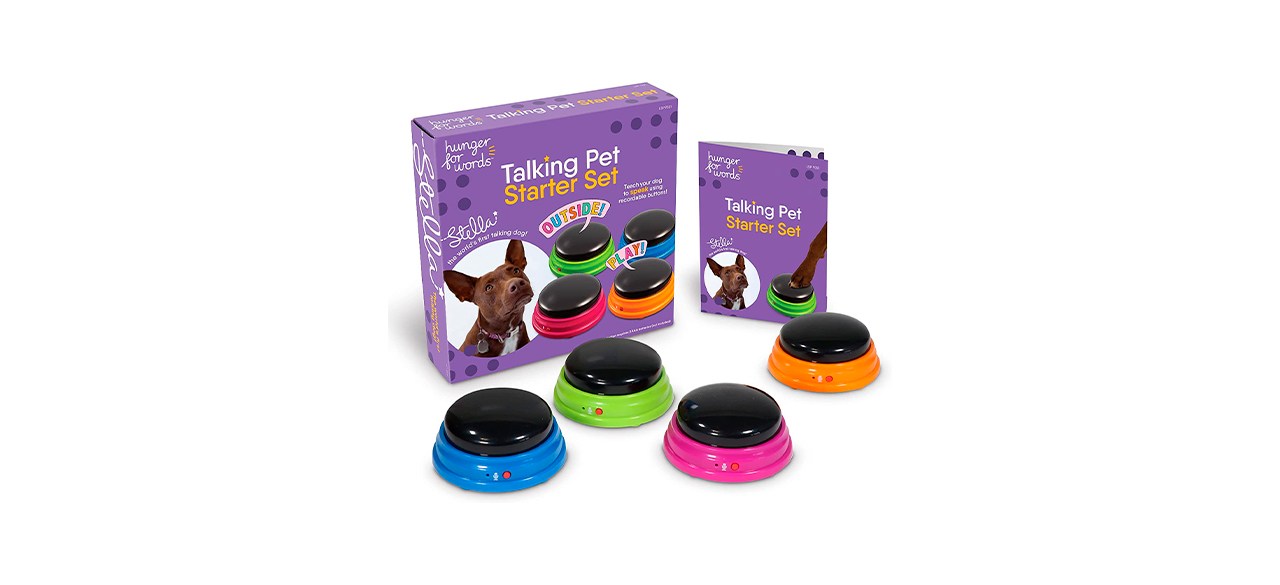 Hunger for Words Talking Pet Starter Set
If you are not sure where to start with teaching your pet to press buttons, this is an excellent choice. While it doesn't come with a mat to keep the buttons from moving around, they are large enough for most pets to press easily. Speech therapist Christina Hunger developed the starter set, which includes a step-by-step teaching guide.
Where to buy: Sold by Amazon
Want to shop the best products at the best prices? Check out Daily Deals from BestReviews.
Sign up here to receive the BestReviews weekly newsletter for useful advice on new products and noteworthy deals.
Charlie Fripp writes for BestReviews. BestReviews has helped millions of consumers simplify their purchasing decisions, saving them time and money.
Copyright 2023 BestReviews, a Nexstar company. All rights reserved.