This is an archived article and the information in the article may be outdated. Please look at the time stamp on the story to see when it was last updated.
Baggu Standard Reusable Shopping Bags review
Depending on where you live, it might not be possible to get a single-use bag when you make a purchase. This means you'll have to carry everything in your arms or bring your own bags to the store.
Baggu claims its reusable shopping bags can be folded down into a 5-inch by 5-inch pouch. The company says they can hold up to 50 pounds each, and they're made with long-lasting materials. Baggu reusable shopping bags also have "generous handles" that "allow for hand holding or over-the-shoulder toting," and they're machine-washable.
To see if this product held up to the company's claims, we tested them in a real-world environment. Here's what we discovered.
Testing Baggu Standard Reusable Shopping Bags
To test products in a real-world environment, BestReviews uses a pool of dedicated product testers. The individual who tested the Baggu reusable shopping bags typically buys reusable bags on impulse while standing in the checkout line. This happens because they often forget to bring in the bags they already own. When purchasing a reusable shopping bag, our tester prefers ones that fold down for storage and expand widely to carry lots of goods.
What are Baggu Standard Reusable Shopping Bags?
The Baggu reusable shopping bag is an eco-friendly option for shoppers who want to reduce waste. It's durable and folds down to a 5-inch square, so it's easy to transport and store.
The three-pack that the tester received arrived in a lightweight recyclable Amazon envelope. It was packaged in a lightweight, clear plastic bag. However, there were no markings on the bag, so it was impossible to know if these were recyclable, too.
The bags themselves felt well-made, the stitching was strong and there were no loose threads. The pack we ordered featured three brightly colored designs: ladybugs, flowers and snails. While the tester thought the ladybugs and flowers were cute, the tester wasn't the biggest fan of the snail pattern. However, that shouldn't be an issue for potential users because there are many different color and design options available.
Baggu's nylon bags can fit a fair amount of groceries in each. We discovered that the company's claims that these reusable options can hold the same amount as three disposable plastic bags and could support up to 50 pounds were accurate. We were also pleased to find that the durable handles were wide enough to wear over the shoulder comfortably. Alternatively, you can carry the bags by hand.
Baggu Standard Reusable Shopping Bag price and where to buy
A set of three Baggu Standard Reusable Shopping Bags costs $42. You can buy them on Amazon.
How to use Baggu Standard Reusable Shopping Bags
To use the Baggu reusable shopping bag, all you need to do is remove it from the drawstring pouch, unfold it and fill it with groceries or other items. When we tested these bags, we discovered they could easily hold seven or eight large items and still have room for more. Even when they're full, these bags feel sturdy. We had no worries that they might rip.
Often, after opening an item, it's nearly impossible to duplicate that pattern so you can fold it back down to its original compact size. This isn't the case with these bags. Our tester found it very easy to fold them back down to a small square and slip them into the accompanying drawstring pouch.
Although they didn't need cleaning, we washed all three bags in a machine to see how well they held up. When finished, we examined the bags and discovered the color didn't fade, they didn't shrink and the stitching remained intact.
Baggu Standard Reusable Shopping Bag benefits
From our testing, we determined everything the manufacturer claimed was true. Baggu reusable bags are rugged, heavy-duty shopping bags that hold an impressive amount of groceries. When they are not in use, you can fold them down to a small square that fits into a purse or a glove compartment so you never have to worry about forgetting to bring shopping bags with you again.
Baggu Standard Reusable Shopping Bag drawbacks
The main reason a consumer might hesitate to purchase these top-quality bags is their comparatively high price: $42 for three bags. The tester also wished that the straps were a little bit longer to make it easier to carry on their shoulder.
Should you get Baggu Standard Reusable Shopping Bags?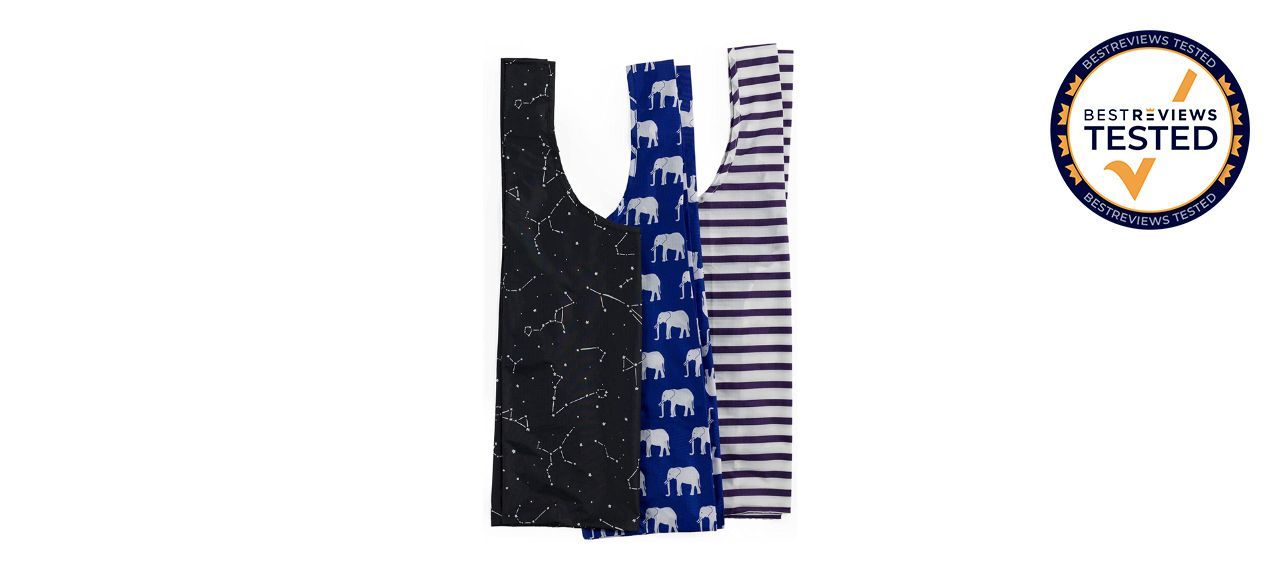 Baggu reusable shopping bags are a good fit for anyone who does their own grocery shopping. They're durable, simple to use, lightweight and they store easily. If you live in a state that has banned single-use bags, you'll eventually need to purchase reusable shopping bags. When that time comes, it makes sense to go with a high-quality item that will last for years. If $42 fits in your budget, Baggu is for you.
Other reusable shopping bags to consider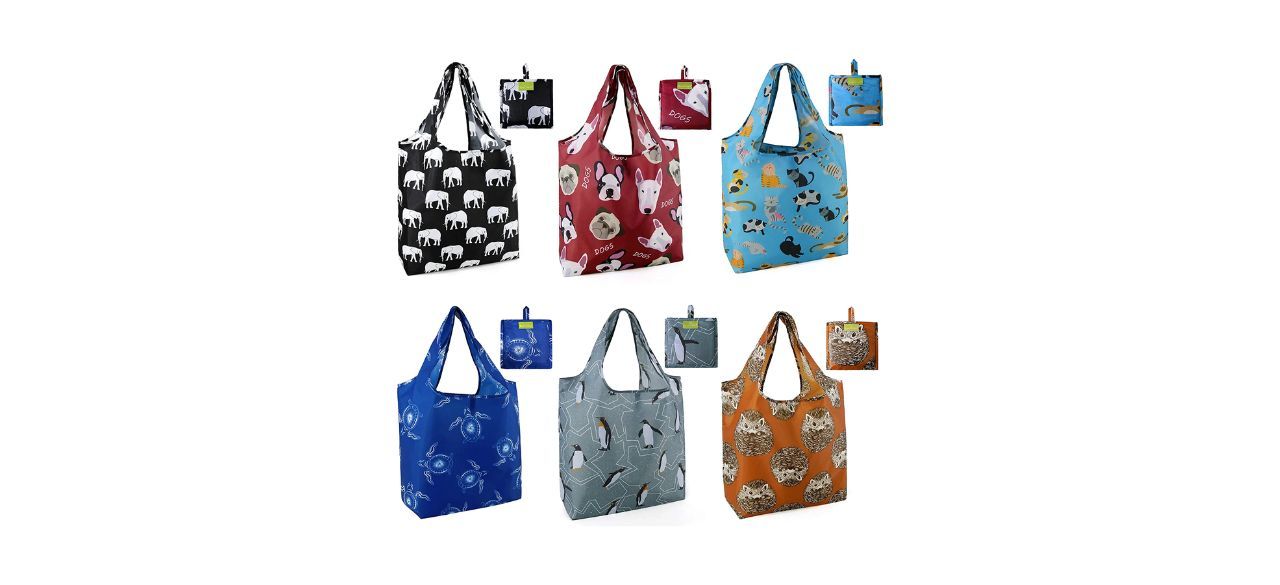 BeeGreen Reusable Grocery Bags
BeeGreen reusable grocery bags come six in a pack. They're available in a wide variety of patterns and colors, and the company states they're rated to carry up to 50 pounds.
Sold by Amazon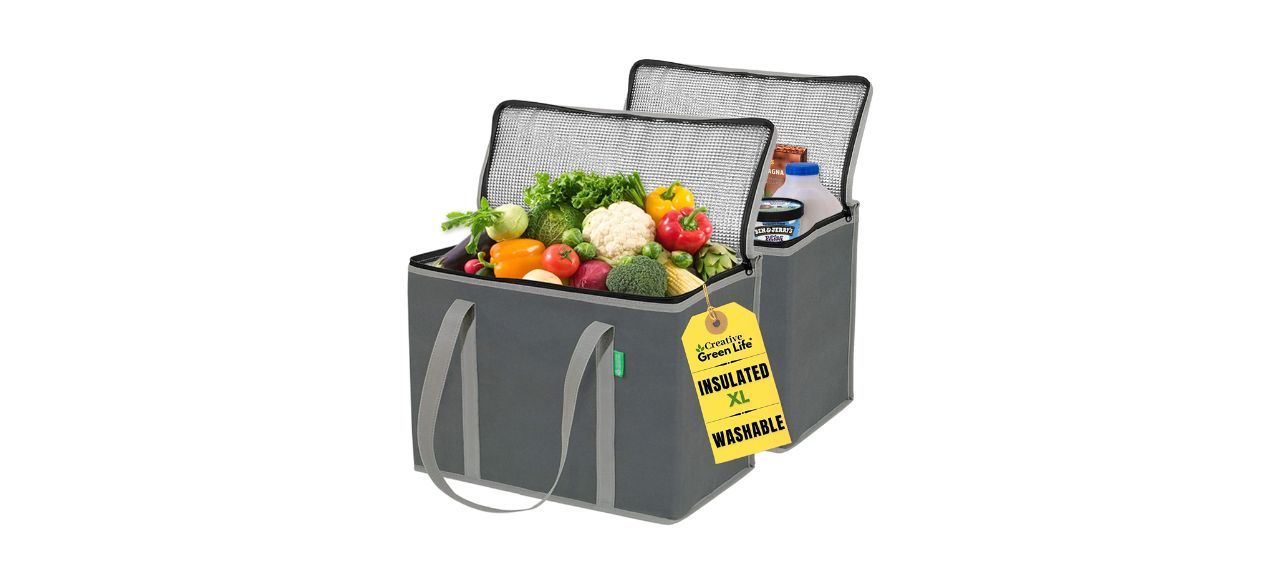 Creative Green Life XL Insulated Reusable Grocery Bags
This insulated option doesn't fold down to a convenient size, but it can keep your food hot or cold during transport. They come two to a pack and have a soft outer shell, foam insulation, foil lining and a removable rigid bottom to help retain shape.
Sold by Amazon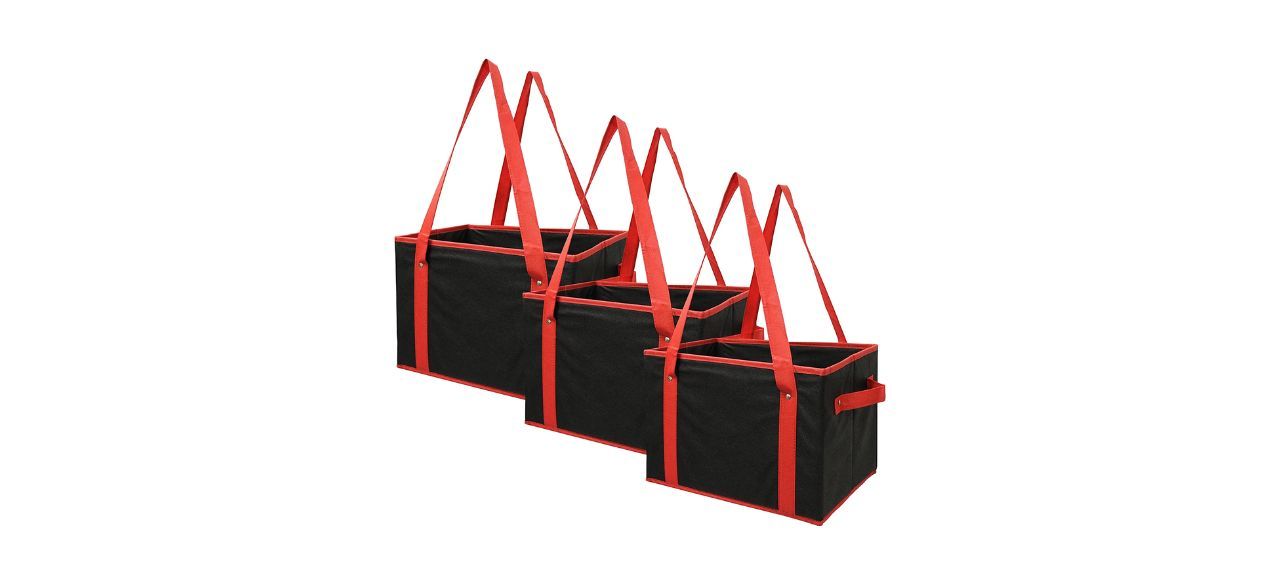 Earthwise Deluxe Collapsible Reusable Shopping Box
These multipurpose items can be used as grocery bags or rugged totes. There are three in a set, and they fold flat for easy storage. The boxes hold their shape when open for easy loading.
Sold by Amazon
Want to shop the best products at the best prices? Check out Daily Deals from BestReviews.
Sign up here to receive the BestReviews weekly newsletter for useful advice on new products and noteworthy deals.
Allen Foster writes for BestReviews. BestReviews has helped millions of consumers simplify their purchasing decisions, saving them time and money.
Copyright 2023 BestReviews, a Nexstar company. All rights reserved.