This is an archived article and the information in the article may be outdated. Please look at the time stamp on the story to see when it was last updated.
Getting a good night's rest is critical for healthy living, but sometimes it's challenging to get out of bed. There are several methods for waking up gently, but if you are a heavy sleeper, chances are good that you'll ignore your alarm and simply turn around under the covers. The best solution is to get an alarm clock that not only ensures you wake up but that you also don't go back to sleep.
In this article: Sunrise Alarm Clock, Sonic Bomb Alarm Clock with Bed Shaker and Shock Clock 2.
Waking up like a champion
For those lucky enough to have regular sleeping cycles, the simple smell of coffee is enough to start the day. The waft of freshly brewed caffeine drifting through the house tickles the senses with the promise of a hearty breakfast, too.
But sleeping heavily makes it difficult to be plucked from a slumber, and heavy sleepers need all the help available. The default alarm on a mobile phone usually isn't sufficient, as the tone isn't loud enough or the sounds don't contrast sufficiently with the environment. And no amount of gentle bird chirping or seaside waves will wake anyone who's in their third or fourth rapid-eye-movement sleep cycle.
That's why some alarm clocks produce loud sounds — and sometimes offer surprising extra features — that will wake even the heaviest of sleepers.
Best alarm clocks for heavy sleepers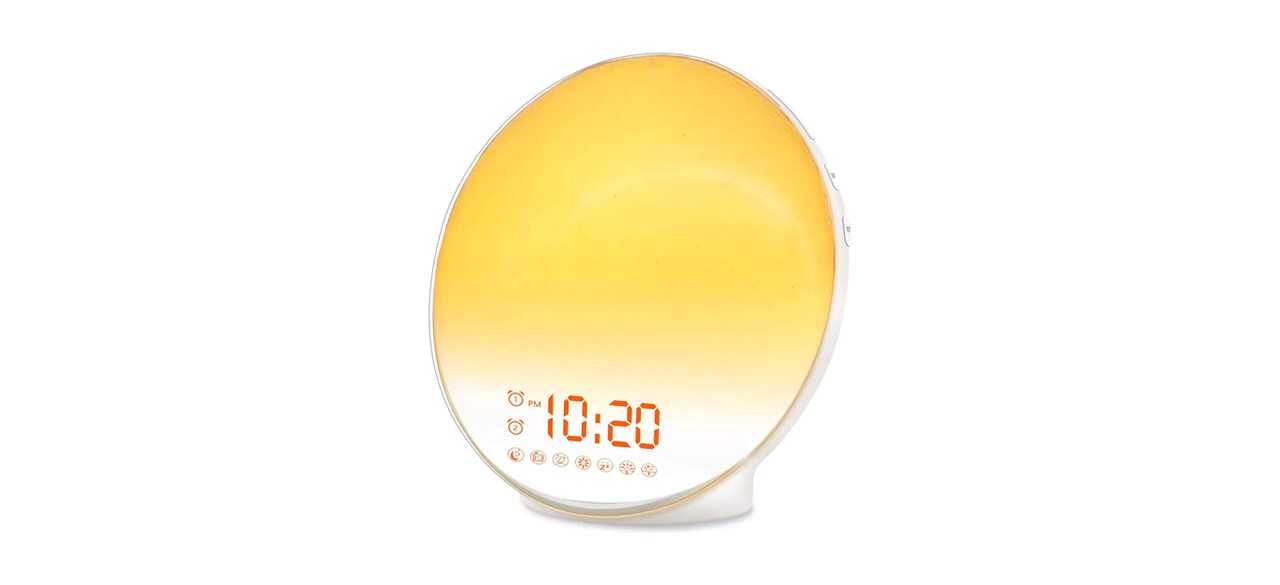 Sunrise Alarm Clock for Heavy Sleepers
This alarm simulates the sunrise, which is a great way to wake up if you're having trouble. It comes with seven natural sounds, and the large 7.2-inch panel slowly changes brightness from 10% to 100% over 10, 20 or 30 minutes. You can change the panel's color to seven different shades, and there is a digital clock on the bottom. Sold by Amazon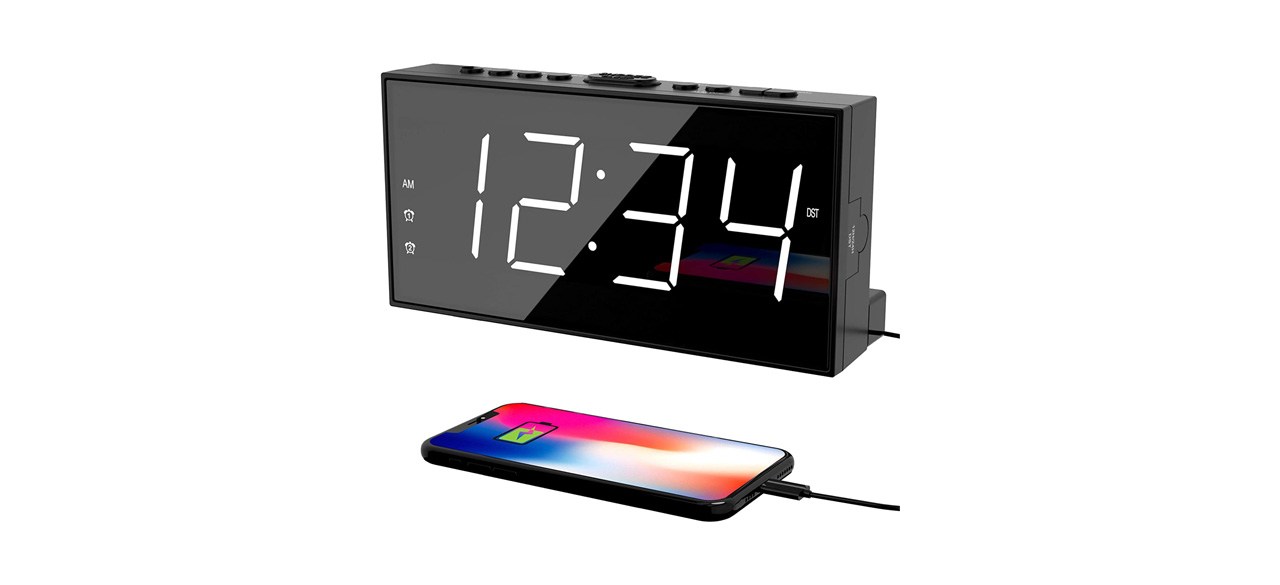 Loud LED Alarm Clock with Two USB Ports
With a 7-inch display, this alarm clock has a four-level adjustable alarm volume, a five-level brightness dimmer and a built-in USB charging port. Even though it connects to a power socket, it works on batteries as a fail-safe when the electricity cuts out. A large snooze button gives you an extra nine minutes of sleeping time. Sold by Amazon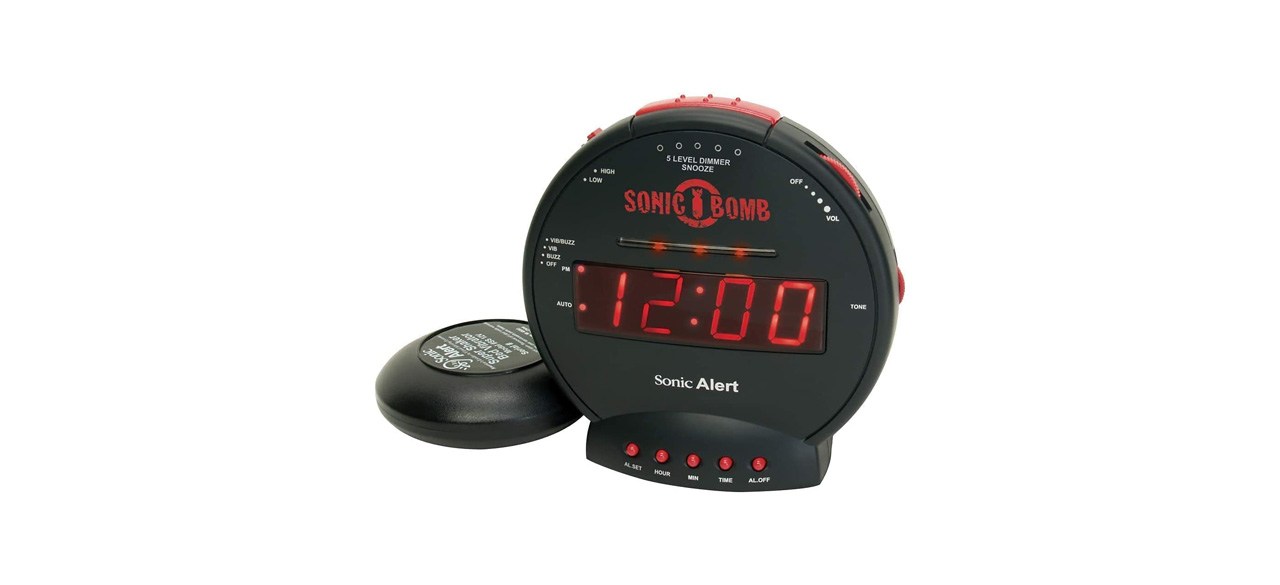 Sonic Bomb Dual Extra Loud Alarm Clock with Bed Shaker
This clock might seem a bit extreme, but for some people, it's the only way they can wake up. Its extra-loud alarm reaches 113 decibels — louder than a riveting machine — and it comes with a super shaker that vibrates your bed. It has a large digital clock on the front, and there are several customization options. Sold by Amazon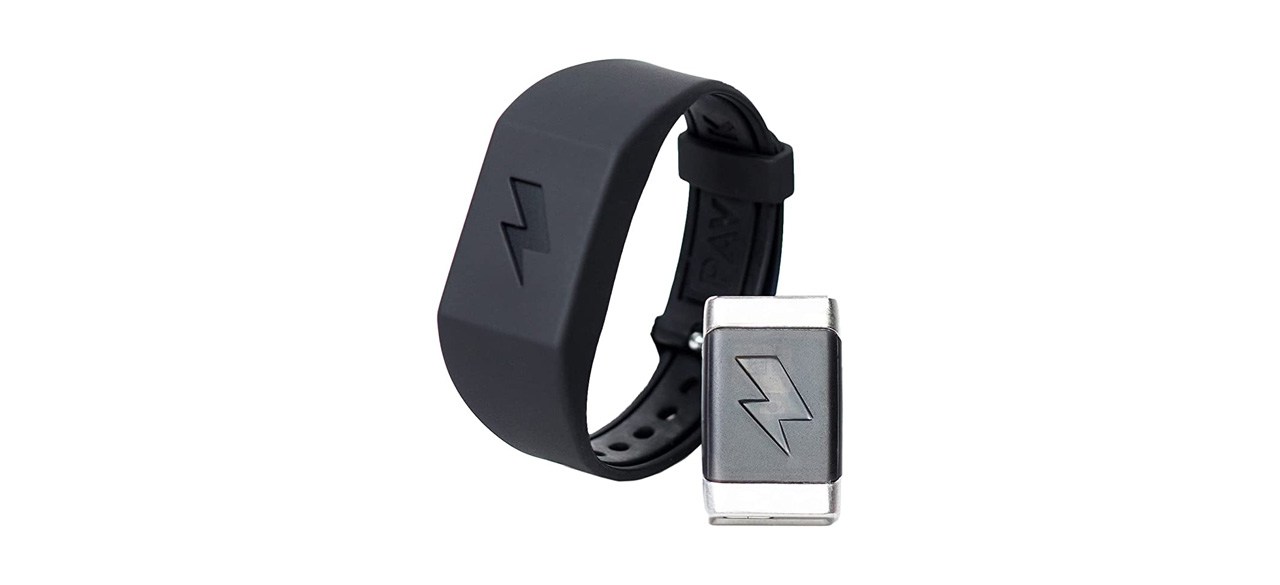 Shock Clock 2 – Silent Alarm Clock Wearable
It will only take a few mornings with this wearable to train your brain to wake up. The trick is that it delivers a small shock at a specific time and continues to do so until you get up. Paired with your mobile phone and app, you can also set the alarm so that you must complete a puzzle, solve a riddle or do jumping jacks for the shocks to stop. Sold by Amazon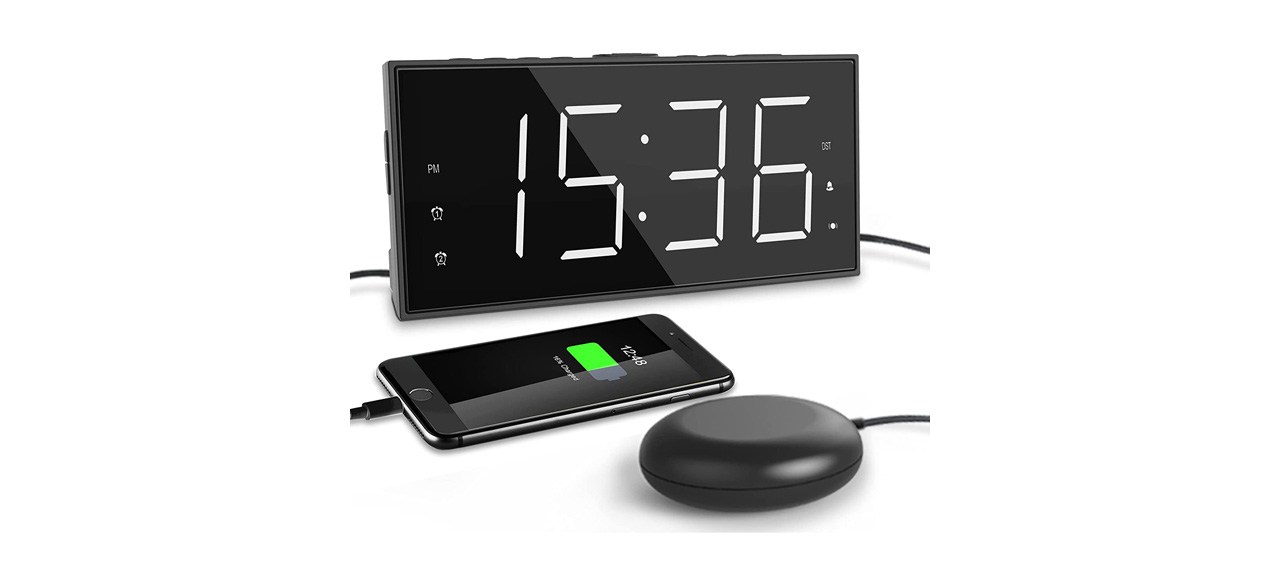 Rocam Vibrating Dual Alarm Clock with Bed Shaker
Nobody should have trouble getting out of bed with this large alarm clock. It has four alarm loudness levels, reaching a maximum of 110 decibels — which is the average human pain threshold. Combined with a buzzer and bed shaker, it is strong enough to wake the heaviest sleepers. It has a highly visible 7.5-inch digital clock with five levels of brightness. Sold by Amazon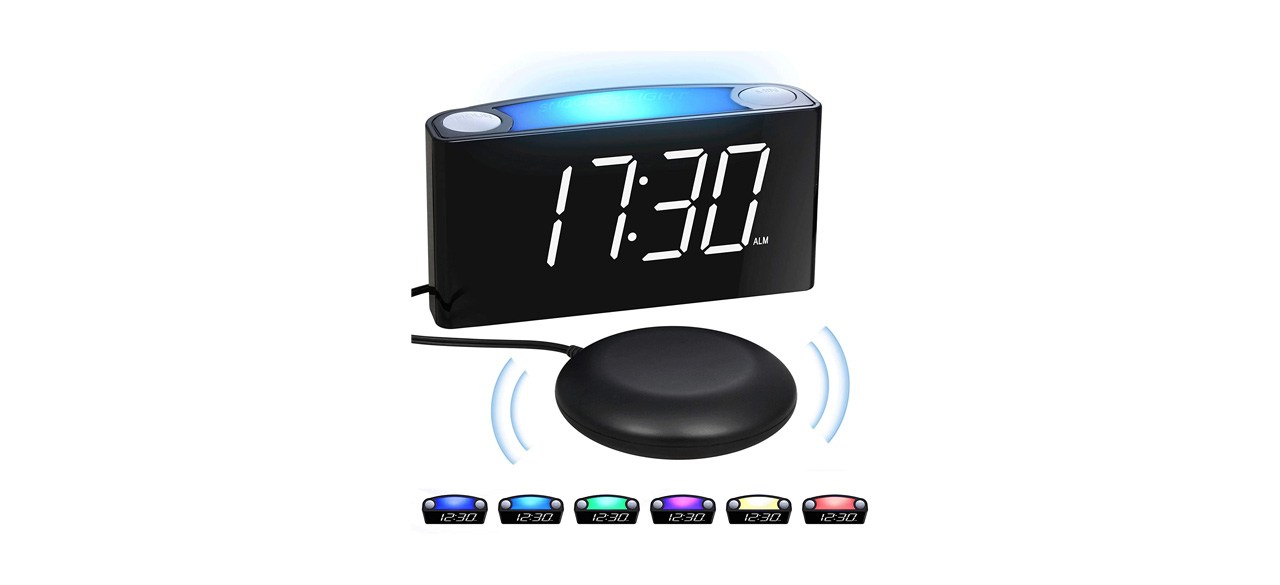 Mesqool Alarm Clock for Heavy Sleepers and Hearing Impaired
Perfect for heavy sleepers and people with hearing impairments, this has a 7-inch digital clock display, a vibrating bed shaker and a loud buzzer. It's easy to change the loudness from 75 decibels to a maximum of 90 decibels — as loud as a motorcycle at 25 feet — and the clock has a seven-color night light on the top. Sold by Amazon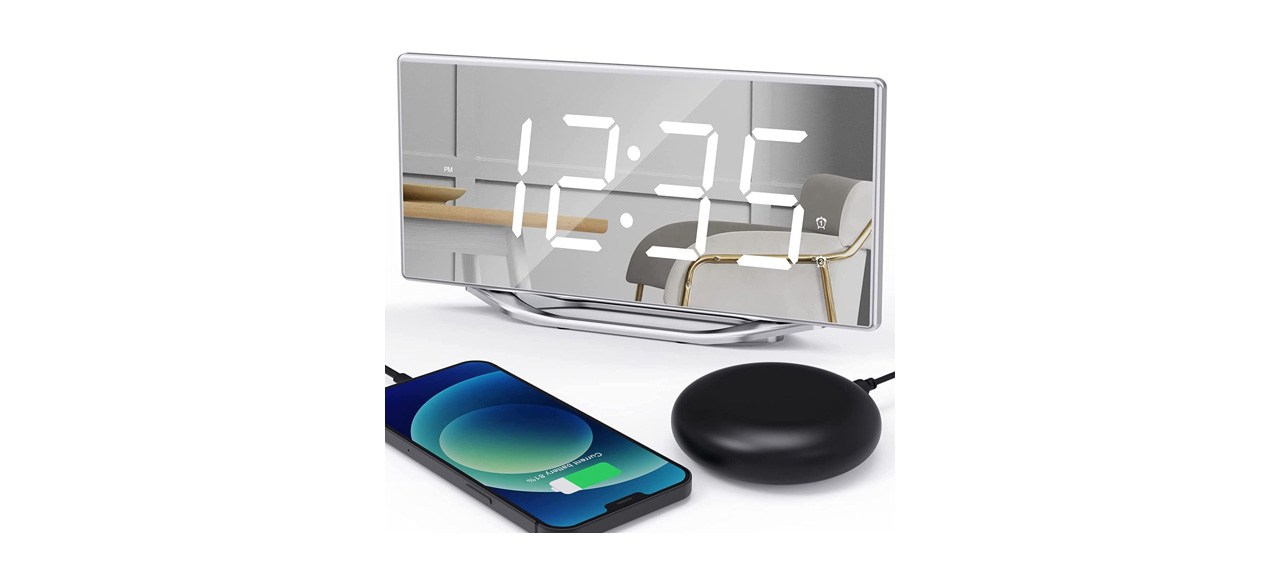 Large 8.7-Inch Vibrating Alarm Clock with Bed Shaker
This stylish alarm features an 8.7-inch mirror-finish digital LED clock, making it easy to see for people with impaired vision. The loud alarm has three wake-up modes, including a bed shaker and a buzzer. It has seven levels of brightness control, and the alarm can reach a maximum volume of 110 decibels. Sold by Amazon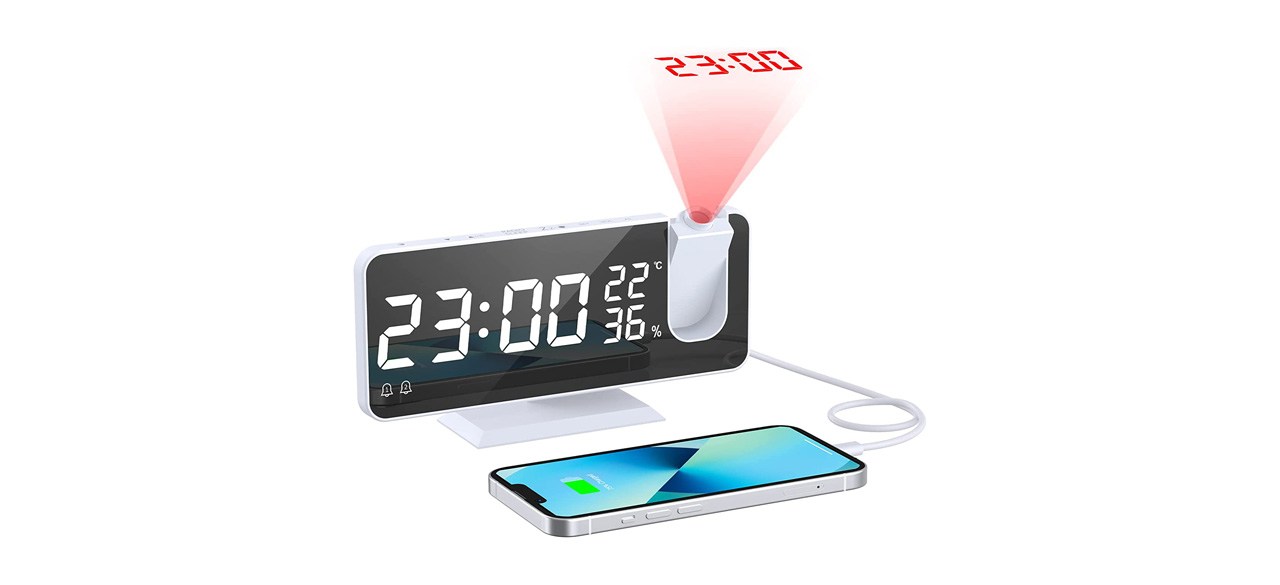 Projection Alarm Clock with USB Charger for Heavy Sleepers
With four brightness levels and a 180-degree adjustable projection clock, this will be hard to ignore in the mornings. It features a traditional loud buzzer, but it also has a radio buzzer if you want to wake up to your favorite radio station. There is a 7.4-inch display with a digital clock that shows the temperature, humidity and how many alarms are set. Sold by Amazon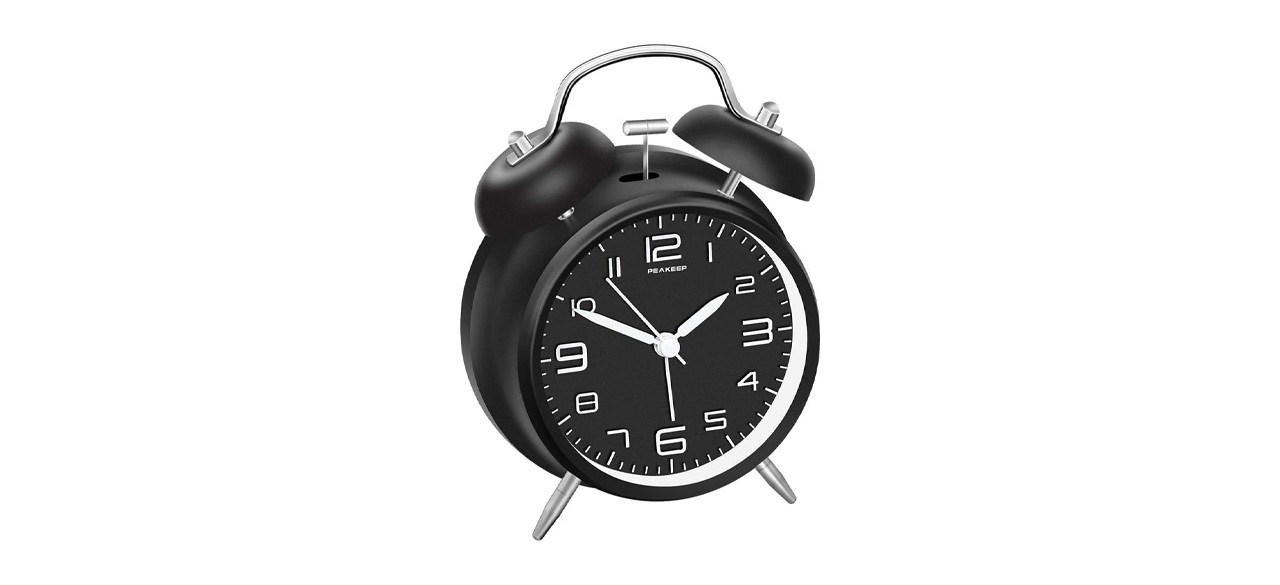 Peakeep 4 Inches Twin Bell Loud Alarm Clock
If the only thing that wakes you in the morning is the ringing of a traditional alarm bell, this is perfect. It has a stylish dial with stereoscopic numbers instead of printed cardboard, making it easier to see. It has silent ticking hands, but a little hammer rings between the metal bells when it's time to get up. There is no snooze button, which is great for heavy sleepers. Sold by Amazon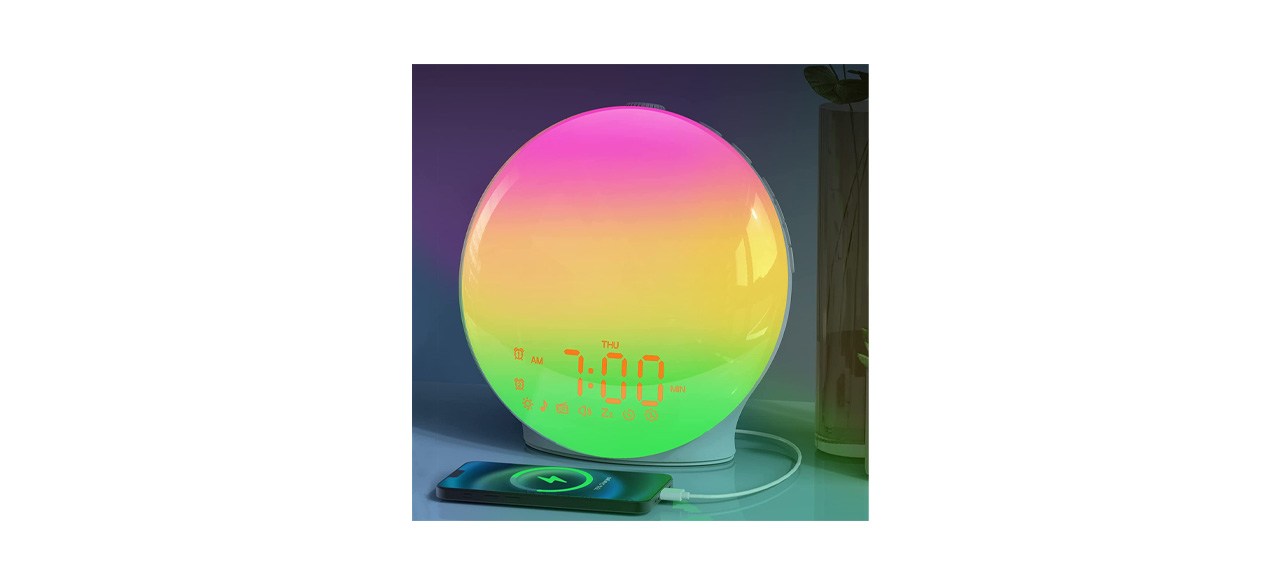 Full Screen Wake Up Light with Sunrise Simulation
Some people prefer to wake up naturally, and this sunrise simulation clock is ideal. The large round panel has 20 levels of brightness to mimic the sunrise and can reach full brightness in 10 minutes to two hours. You have the option to wake up with seven natural sounds or to your favorite radio station. Sold by Amazon
Want to shop the best products at the best prices? Check out Daily Deals from BestReviews.
Sign up here to receive the BestReviews weekly newsletter for useful advice on new products and noteworthy deals.
Charlie Fripp writes for BestReviews. BestReviews has helped millions of consumers simplify their purchasing decisions, saving them time and money.
BestReviews spends thousands of hours researching, analyzing, and testing products to recommend the best picks for most consumers.
Copyright 2023 BestReviews, a Nexstar company. All rights reserved.